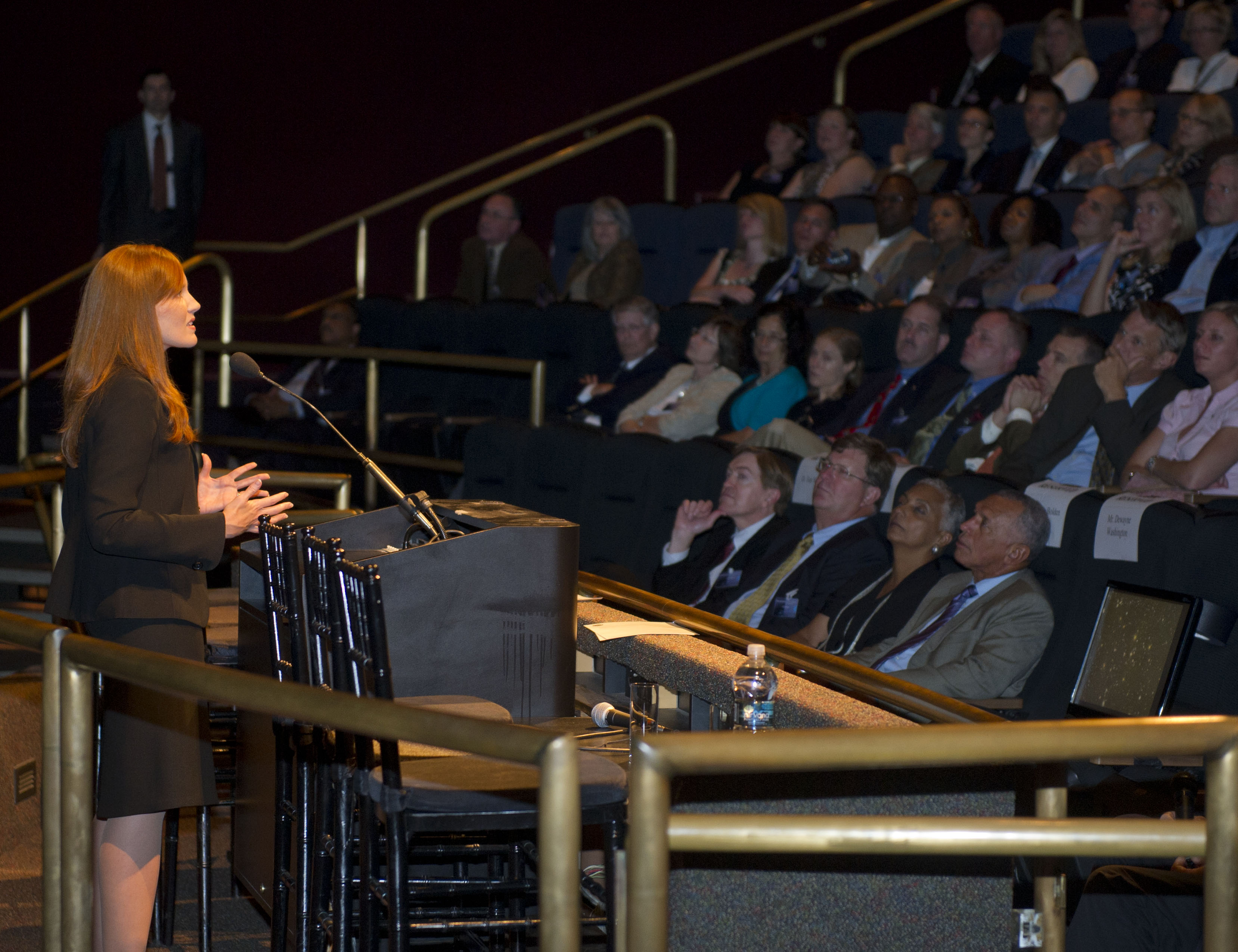 I do extensive public speaking about astronomy, Hubble, JWST, and NASA in general– which has taken me to some exciting places and venues over the last several years!  If you would like for me to speak at your event or lecture series, please email me at amber.n.straughn [at] nasa.gov
One of the most fun talks I've gotten to do lately was at the World Science Festival in New York City in the spring of 2015.  It was about "Cool Jobs"…and well, anybody that knows me knows that I think my job is the coolest in the world!  Here's a video of my talk:
In the fall of 2014 I gave a Highlight Lecture at the International Astronautical Congress in Toronto, which was a fantastic conference with some of the brightest people in the world working on some of humankind's biggest challenges in space exploration.  Here's the video of my talk:
In spring of 2012, I spoke at the Library of Congress' Science and Technology lecture series; video below.  After the lecture, I got a behind-the-scenes tour of the Library, which was amazing!
In September 2011, I had the honor of presenting NASA Astrophysics at the NASA Reception at the National Air & Space Museum to an audience of 900+ NASA officials, aerospace executives, and members of Congress for 'Earth & Space: A Journey of Wonder and Discovery".  This video was taken on a camera phone, so it's rather low quality, but this was a very exciting event for me:
In addition to the National Air & Space Museum and the Library of Congress, I have also given invited public talks at at the National Museum of Natural History, at NASA Space Grant Consortium symposia, national Research Society meetings, and public events at Goddard Space Flight Center.  I've also given more informal talks at local DC events such as Nerd Nite and NOVA's Cosmic Cafe.
In addition to general science-interested audiences, I also occasionally have the opportunity to speak to groups of people with different interests and backgrounds, which is always challenging and interesting.  In the following video, I spoke about "Space" in the Creative Mornings lecture series, which is described as a "breakfast lecture series for creative people".  The DC chapter consists largely of business entrepreneurs, start-ups, and graphic design types.  They were a fantastic audience!
I also get to do fun panel talks; a REALLY fun recent one was at ComicCon in July 2015 with fellow panelist Adam Nimoy, son of legendary Leonard!  Here's the video:
Another regular part of my job is presenting Webb telescope science for VIP tours at the huge cleanroom viewing area at Goddard.  In the last year, I have presented with and for NASA Administrator Charlie Bolden and Goddard Center Directors Rob Strain and Chris Scolese, as well as the Associate Administrator for Education Leland Melvin, and Bill Nye, director of The Planetary Society.  I also regularly present for Congressional members and staff.
As an Arkansas native, I am often invited back to my home state to speak about my work at NASA.  Two years in a row, I have presented the Keynote Lecture at the Arkansas Women's Foundation's 'Girls of Promise' conference.  I have been the Keynote speaker at the Arkansas Academy of Science's annual meeting (2014), the Arkansas Space Grant Consortium's Annual Conference (2011), and the Fall Banquet for the Arkansas chapter of the Sigma Xi research society (2012).
A full list of my public and scientific speaking engagements can be found in my CV.